Abingdon Junior Athletics Event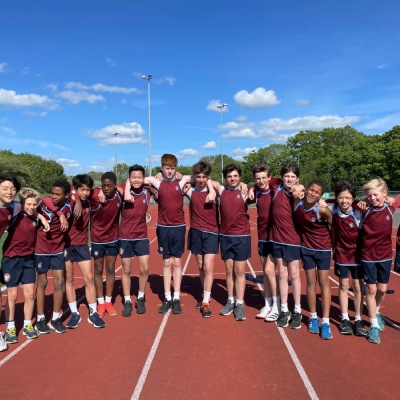 On Tuesday 10th May, 15 Cothillians attended the first athletics meet of the term at Tilsey Park, hosted by Abingdon School.
We entered an U13 team (Brodie Brackenbury, Jack Cannon, Jose Eze, Douglas Redmayne, William Jordan-Willis, Winn Suksriwong, George Milne and Ferdie Oakes). The U12 team (Hector Lindsay, Teo Lim, Elan Odogwu, Keanu Ruffin, Cheng Ku and Oscar Mudd).

The boys did very well and supported each other in different disciplines. We had some impressive results:

U13s
Jack Cannon - won the 800m (0.04s off the school record!), 2nd in the 100m
Jose Eze - 2nd in the 200m
Douglas Redmayne - won the shot putt (with 9.82m)
William Jordan-Willis - 3rd in the shot putt
Freddie Laarman - 3rd in the 1500m
Relay team - 2nd in the 4x100m

U12s
Cheng Ku - won the 100m in a dead heat
Hector Lindsay won the high jump, 2nd in the 1500m
Elan Odogwu - 2nd in the high jump
Teo Lim - won the shot putt (with 8.66m)
Relay team - 4th in the 4x100m

The next fixture is the ESAA Track and Field Cup 1st Round. Thank you to Mr Eyston for helping with the overall organisation. Great results!